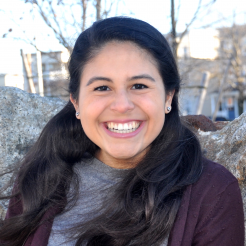 Research Assistant
Amanda Hernandez joined Silent Spring as a research assistant in the summer of 2018. Her work currently focuses on researching disparities in drinking water quality in relation to the socioeconomic status of communities across the United States. She also serves as the Health/Science Node coordinator for the Cancer Free Economy Network.
Hernandez earned her Bachelor's degree from Wellesley College, majoring in environmental studies and geosciences. While pursuing her undergraduate degree, she explored the applications of a systems level approach to bridge the knowledge gaps between environmental processes and human health. As an intern with The Nature Conservancy's Melanesia program, Hernandez worked on projects that empower and engage local women in conservation and climate adaptation. At Wellesley, she worked in an environmental geochemistry lab studying lead and other heavy metal exposure in urban ecosystems. She also spent time in an ecosystem ecology lab studying the impact of climate change on soil microbial communities in the Northeast U.S. Her individual research focused on herbicides and women's health, specifically the fate, transport, and exposure pathways of glyphosate.
Hernandez is excited to contribute to meaningful, collaborative, and interdisciplinary environmental research at Silent Spring. In her free time, she enjoys travelling, listening to podcasts, and going on hikes with friends.
Projects
Publications & Presentations
Kripke M., J.G. Brody, E. Hawk, A.B. Hernandez, P.J. Hoppin, M.M. Jacobs, R.A. Rudel, T.R. Rebbeck. 2020. Rethinking Environmental Carcinogenesis. Cancer Epidemiology, Biomarkers & Prevention. 29(10): 1870-1875. doi.org/10.1158/1055-9965.EPI-20-0541