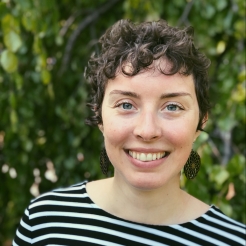 Research Assistant
Maia Fitzstevens joined Silent Spring Institute as a research assistant in February 2019. She works on water quality issues, with a particular focus on the occurrence and health effects of PFASs contaminants. She coordinates the PFAS-REACH project, and also manages Detox Me—Silent Spring's free mobile app for helping people reduce their exposure to toxic chemicals.
Fitzstevens holds a master's degree in Soil Science from North Carolina State University. For her graduate thesis, she investigated the viability of bone char as an appropriate water treatment technology for removing fluoride and arsenic from contaminated groundwater. Prior to completing her graduate work, she worked in Sri Lanka for two community-based organizations, Sarvodaya and the Movement for Land and Agricultural Reform, where she researched and implemented community health interventions to prevent the epidemic of chronic kidney disease of unknown origin (CKDu), the cause of which is related to environmental exposure to toxics in food and water. While in Sri Lanka, she started an organic farming training center to educate farmers on chemical-free farming practices and coordinated community workshops to install biochar water treatment systems to remove pesticide residues from well water.
Fitzstevens received a bachelor's degree in Environmental Studies from Wellesley College, where she was involved in the environmental geochemistry research lab and student environmental activist organizations. Her undergraduate research focused on characterizing compost used in urban gardens in Boston, with the goal of reducing exposure to lead from contaminated urban soil.
Fitzstevens' passion for environmental health and environmental justice stems not only from her college and community work, but is also grounded in her experience growing up in and attending public schools in Rochester, NY, one of the most segregated cities in the US. In her free time, she enjoys cooking, crafting, bike rides, and travelling to visit friends and family.
Projects