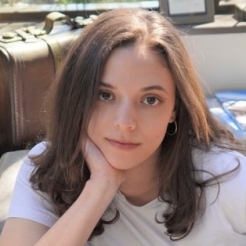 Digital Communications Specialist
Reyna LaRiccia joined Silent Spring Institute in December 2021 as the Digital Communications Specialist. She focuses on social media content creation and management, as well as other forms of digital communications to enhance Silent Spring's messaging and reach.
Reyna graduated from Colgate University with a B.A. in English and Film & Media Studies. During her time at Colgate, she also took a myriad of Environmental Studies classes, and became passionate about the intersection of media, communications, and environmental advocacy. Outside of academics, Reyna was Managing Editor of the Maroon News, and worked at the various art galleries around campus.
Prior to Silent Spring, Reyna was a Content Marketing Specialist at a B2B SaaS company, writing both long and short form pieces, as well as doing social media and copywriting. She decided to make the switch to the world of nonprofit, and Silent Spring specifically, because she wanted to align her career with her personal values. She is incredibly passionate about the work that Silent Spring does, and the women and families it helps.
In her free time, Reyna likes to paint with watercolor and acrylic, boulder at her favorite rock gym in Boston (Rock Spot), and take long walks around the Arnold Arboretum and Jamaica Pond.
Projects