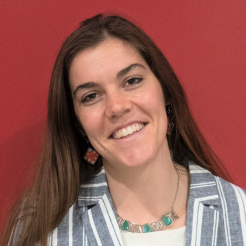 Research Assistant
Summer-Solstice Thomas joined Silent Spring as a Research Assistant in June 2021. Her work currently focuses on community-based participatory research, including the PROTECT study in Puerto Rico and the Women Workers Biomonitoring Collaborative in the Bay Area. She also serves as the coordinator for the Cancer Free Economy Network's Health & Science working group. She is passionate about building bridges between the research capabilities of scientists and the energy of grassroots movements to realize safe, healthy, and self-determined futures for communities disproportionately burdened by toxic chemicals.  
Prior to working at Silent Spring, Thomas was a Henry Luce Scholar in Cambodia, working for a local public policy think tank, Future Forum. At Future Forum, she collaborated with Cambodian scholars to study the economic effects of Covid-19 on local households, survey the capabilities and constraints of civil society organizations under Cambodia's quasi-authoritarian government, and research the environmental and social impacts of large-scale Chinese funded development projects. Her time in Cambodia deepened her appreciation of the importance of valuing local knowledge, building cultural awareness, and critically analyzing the ethics of Western aid and influence.
Thomas graduated with a bachelor's degree in environmental studies from Williams College in 2020, where she focused on environmental justice and public health. Her senior environmental chemistry thesis at Williams earned highest honors for its analysis of mobilization, transport, and storage of carcinogenic PCB pollution in the Housatonic River. As an intern at the Center for Environment, Health & Justice in Washington D.C., Thomas led the design of novel policies for regulating air pollution in sacrifice zones and created communications materials to solicit community input. Throughout her undergraduate career, Thomas focused her work on cultivating healthy communities, from starting an initiative to encourage faculty and staff to incorporate more productive conversations on power, difference, and equity into their lectures and seminars, to building a supportive community of over 100 diverse teammates as a varsity Track & Field captain. Thomas is thrilled to be able to contribute to Silent Spring's innovative, collaborative, and community-focused research.
In her spare time, she enjoys going on long bike rides, attempting new recipes, weightlifting, and listening to social justice podcasts.
Projects