The legacy of Rachel Carson
Rachel Carson was an extraordinary scientist, a gifted writer, and a courageous and outspoken woman. In 1962, she captured the nation's imagination with her portrayal of nature imperiled by the indiscriminate spray of pesticides.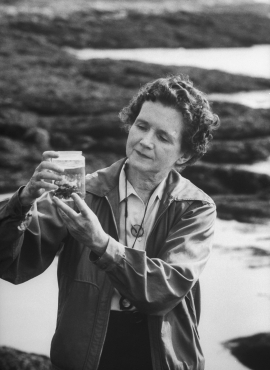 "The few birds seen anywhere were moribund," she wrote. "They trembled violently and could not fly. It was a spring without voices. On the mornings that had once throbbed with the dawn chorus of scores of bird voices there was now no sound; only silence lay over the fields and woods and marsh."
When Carson published Silent Spring, her vivid prose and persuasive arguments helped spark the modern environmental movement. The book also sparked the rage of the chemical industry, whose representatives threatened her with lawsuits and labeled her as hysterical. Carson reigned serene during those attacks. "I have felt bound by a solemn obligation," she wrote a friend, "to do what I could—if I didn't at least try I could never be happy again in nature."
You may be surprised, then, to learn that this courageous, history-transforming woman was afraid to let anyone know she had breast cancer. When she testified before Congress soon after publication of her book, she wore a wig to hide the effects of radiation treatment. Less than two years after the appearance of Silent Spring, she died of metastatic disease.
Since Carson's death, many have wondered whether the environmental toxics that inspired her work could be linked to the disease that killed her. And many worry, too, about our population's increasing vulnerability.
Many have been frustrated that the breast cancer research establishment has focused so heavily on treatment, with little investment in prevention. Since Carson's pioneering work, we've made tremendous progress—and yet too little. You can open to nearly any page of Silent Spring and find cautions that still hold true. Carson was right—and that provides us with little comfort. What her story does provide us with, though, is inspiration and hope. Carson taught us that what we can recognize, we can change.