A Guide to Healthier Hair Care Options for Black Women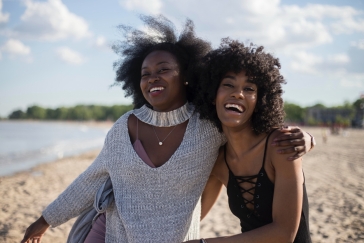 Black Women are potentially exposed to numerous hazardous chemicals through the hair products they use. Many of these chemicals are endocrine disruptors—substances that interfere with the body's hormones, like estrogen. There are steps Black women can take to limit their exposures to toxic chemicals in hair products. The following tips were created in collaboration with our partners at Black Women for Wellness and WE ACT for Environmental Justice.
Read the label with care.Chemicals of concern are not always listed on product labels, but labels can help point you in the right direction. Look for the phrases "phthalate-free" and "paraben-free." Avoid the following ingredients: -siloxane, cyclomethicone, benzophenone, octinoxate, octyl methoxycinnamate, oxybenzone, diethanolamine or DEA, paraben, fragrance or parfum, and triclosan.
Choose products made from plants, not petroleum. Hair products can contain a number of hormone disrupting chemicals including parabens, phthalates, and cyclosiloxane. Look for products that primarily list plants in the list of ingredients or products labeled "made with organic ingredients."
Instead of using chemical straighteners, go for a temporary style: Chemical hair straightening products use harsh chemicals that can irritate and damage skin, damage hair, and even cause chemical burns. Blowout straightening products release large amounts of cancer-causing formaldehyde into the air. Explore using heat, braids, and other chemical-free styling options.
Look for a hair salon with good ventilation. Salon products and activities can release a variety of chemicals into the air, so good ventilation is key. A simple sniff test can help you assess a salon's ventilation system. The stronger the smell, the weaker it is.
Let your hair express itself naturally. Celebrate your hair by letting it express its natural texture and style. Not only will your hair be happier and healthier, you might also end up using fewer products. Since each product is an additional source of chemicals, by using fewer products you can reduce the amount of unknown and untested chemicals entering your body. For tips on styling natural hair, visit Black Women for Wellness' guide to healthy hair.
Avoid hair products that contain placental extracts. Estrogen is associated with an increased risk of breast cancer. Because estrogen and other hormones are present in animal placenta, it's best to avoid products that list placenta, as well as estrogen, estrone, estriol in the ingredients.
Ask for best practices when getting extensions, weaves, or braids. Tight weaves, braids, and extensions can pull out or break hair over time. This can lead to a cycle of using more hair products to give hair more volume and to repair damage. Because weaves can lead to a dangerous buildup of bacteria and chemicals, clean your scalp often and have weaves removed after 4 weeks. Hair glue can trigger potentially dangerous allergic reactions, so ask for sewn-in extensions instead.
For tips on reducing exposures to harmful chemicals in personal care products and more, download Detox Me, Silent Spring's free mobile app for healthier living.