Remembering Silent Spring board member Dr. Jack Erban
September 18, 2020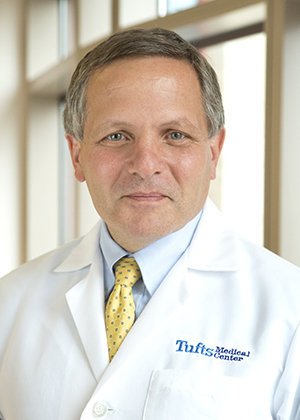 Silent Spring Institute recently lost a dear member of our board and our community, Dr. John K. (Jack) Erban III. Jack was a breast oncologist who served as Clinical Director of the Cancer Center at Tufts Medical Center and was a Professor of Medicine at Tufts University School of Medicine. He died of brain cancer on September 2nd.
"Jack was a person of enormous compassion and integrity and persistence and he provided invaluable leadership at Silent Spring for nearly 25 years," says board member Jeanne Mockard.
A brilliant doctor, always on top of the latest innovations in breast cancer treatments, Jack helped countless women through the devastation of the disease. But, he was also one of the biggest advocates for prevention. "In fact," says Mockard, "he would often say, 'I'd really like to put myself out of business.'"
Jack was invited to join the board at Silent Spring in 1996 by founding member Ellen Parker, who was a colleague of his at Tufts Medical Center. At that time, the harmful effects of BPA were just coming to light and Jack was especially interested in the new emerging science, in particular the ability of BPA and other chemicals in consumer products to interfere with estrogen.
"He was exceptional in his open-minded and courageous appreciation of the role of the environment, specifically the influence of endocrine disrupting chemicals," says Dr. Julia Brody, executive director of Silent Spring. The Institute had just embarked on its landmark Cape Cod Breast Cancer and Environment Study and Jack was intimately involved in guiding its research. "He was aspirational for us."
"Jack's determination to support Silent Spring in conducting high-quality peer-reviewed scientific research was seminal in helping the organization grow and achieve its national identity," says Silent Spring board co-chair Dr. Cathie Ragovin. 
But it was his deep passion for prevention that set him apart from his peers. In 2014, Jack took a trip to China to develop research collaborations to advance treatments. He was struck by the haze over Shanghai. As he reflected on the health impacts of air pollutants—many of which are breast carcinogens—and rising rates of breast cancer globally, he became more convinced than ever that the current approach to cancer with its focus on treatments was unsustainable.
"In my opinion, prevention is the only plausible way out of the breast cancer epidemic," he said in his acceptance speech at Silent Spring's annual gala in 2015 upon receiving the Rachel Carson Advocacy Award. "That's simply because the costs of our treatments, both human and financial, are way too great and growing all of the time. By eliminating the preventable causes of breast cancer, we will be saving countless women and families from ever having to endure the pain, the suffering, and the financial toxicity of dealing with this disease."
Day in and day out at Tufts Cancer Center, Jack witnessed firsthand cancer's toll. He went out of his way to help all people, no matter what kind of cancer they had. Despite the stresses of his job and his many commitments, Jack rarely missed a meeting at Silent Spring. He was an instrumental leader in all aspects of the board.
"He always had substantive comments and pearls of wisdom to share," says Ragovin. "We treasured our connection to him and enjoyed his time with us. To say he will be sorely missed is such an understatement. His loss is a tragedy for Silent Spring, his family, and all those whose lives he touched."
To learn more about Jack and his incredible life, read his obituary in the Boston Globe.
If you would like to honor his memory, in lieu of flowers, Jack and his family have requested that contributions be made to Silent Spring Institute.