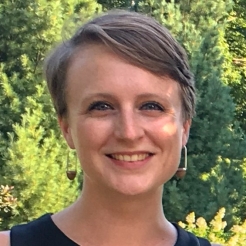 Environmental Health Study Coordinator
Emily Heckel joined Silent Spring Institute in July 2022. She is the study coordinator for the Massachusetts PFAS and Your Health Study, a CDC-funded multi-site study that is investigating the relationship between PFAS contaminants in drinking water and their effects on human health.
Prior to joining Silent Spring, Emily worked as a study coordinator at the Marcus Institute for Aging Research at Hebrew Seniorlife, where she managed the overall coordination and execution of an NIH-funded study on age-related muscle loss in collaboration with the Framingham Heart Study. She also worked as a research project coordinator at the Harvard T.H. Chan School of Public Health for an interdisciplinary study examining the effects of positive and negative emotions on tobacco use. In this position, she contributed to a qualitative research study looking at local Massachusetts towns' responses to the opioid crisis.
Emily has an MPH in Global Environmental Sustainability and Health and a certificate in Risk Sciences and Public Policy from Johns Hopkins Bloomberg School of Public Health. She received her Bachelor of Arts in Anthropology and Philosophy from Macalester College.
In her free time, Emily enjoys rock climbing, cooking, and spending time with friends and family.
Projects