Experts Call for Federal Government to Increase Breast Cancer Prevention Efforts
February 12, 2013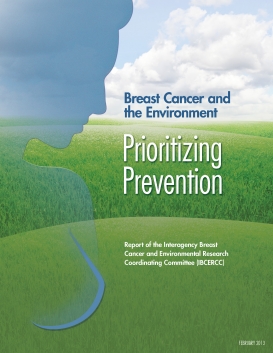 Citing 11 Silent Spring Institute studies, a major federal interagency report issued February 12, 2013, calls for greater investment in research on breast cancer prevention. The report highlights the scientific evidence about potential environmental causes of breast cancer, and shines a light on the fact that currently only a small fraction of the government's breast cancer funding is spent on prevention.
The report was issued by the Interagency Breast Cancer and Environmental Research Coordinating Committee (IBCERCC), composed of breast cancer experts from governmental agencies (including NCI, NIEHS, EPA, CDC, DOD) as well as leaders in scientific research and advocacy—and it specifically recognizes Silent Spring Institute's founders as influential pioneers.
"We can no longer ignore the major gaps in understanding the role of the environment in breast cancer, because we are constantly exposed to combinations of chemicals without knowing whether they could make one at risk for breast cancer," said Michele Forman, chair of the Interagency Breast Cancer and Environmental Research Coordinating Committee (IBCERCC) and an epidemiologist at The University of Texas at Austin. "We want this report to be a call to action, to bring awareness to the issue of prevention and move the country forward on this issue. This report is intended to set the stage for a strategic plan in much the same way the 1964 surgeon general's report on smoking tobacco changed how we thought about lung cancer risk."
The report notes that only 10 -16 percent of women diagnosed with breast cancer have a first-degree relative with a history of the disease, illustrating the important role of non-inherited factors. The report relies substantially on Silent Spring Institute research, including the list of mammary carcinogens we created and our review of epidemiologic studies of environmental chemicals.  Our model for research on chemicals and breast cancer is recognized as foundational.
From the report: "The Committee's recommendations for research on breast cancer and the environment reflect [Silent Spring Institute Executive Director] Brody and colleagues' approach to prevention-oriented science. This approach… ascertains exposure pathways and evaluates animal and cell-based studies that suggest biologically plausible links to breast cancer."
The IBCERCC specifically recommends a focus on chemicals, among other research priorities. It will be up to us to make sure that the forward-looking recommendations for research on suspect chemicals are implemented and that the new science is put into action.
Files
IBCERCC Report