We all carry a body burden of environmental chemicals. But when does that burden grow too heavy? Which chemicals can be tolerated, and which trigger or hasten the development of cancerous cells?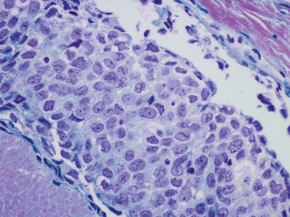 In a landmark study published in 2007 in Environmental Factors in Breast Cancer, a supplement issue of Cancer, researchers at Silent Spring identified 216 chemicals that cause mammary tumors in animals. The findings were based on an analysis of data from national and international sources. The researchers used the information to create a searchable online database called the Mammary Carcinogens Review Database, featuring detailed information on each carcinogen.
Among the 216 chemicals identified as causing breast tumors in animals, 73 have been present in consumer products or as contaminants in food, 35 are air pollutants, and 25 have been associated with occupational exposures affecting more than 5,000 women a year. Twenty-nine of the compounds are produced in the United States in large quantities, often exceeding one million pounds a year. The analysis also showed that the overwhelming majority of chemicals people are exposed to have never been tested for cancer risk, suggesting more research is needed to expand and improve chemicals testing.
For each chemical listed, the database includes its carcinogenic potential, its ability to cause gene mutations, exposure to the chemical in the general population and among women at work, and other characteristics of use, sources, and regulation. This information is crucial for regulators to consider in decisions about limiting human exposure and for manufacturers to evaluate in reformulating products and re-engineering processes to avoid suspect chemicals. It is also valuable for epidemiologists to identify new chemicals, exposure scenarios, and exposed populations for breast cancer studies.
The database, along with the Epidemiology Reviews database, is available to the public free of charge.