Women firefighters study shows power of community-engaged research to create safer workplaces
August 30, 2023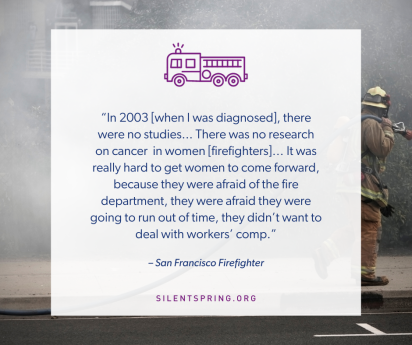 A new analysis describes how community-based participatory research (CBPR) can be an effective tool for protecting women workers from hazardous chemical exposures on the job and creating healthier work environments overall. The analysis, led by Silent Spring Institute, appears in the journal Environmental Health.
The Women Firefighters Biomonitoring Collaborative was launched in 2012 to investigate the links between occupational exposures to toxic chemicals and breast cancer. Although earlier studies have shown elevated exposures among firefighters to chemicals linked with cancer and other harmful health effects, this was the first study to investigate chemical exposures in women firefighters.  
Individual results were shared with study participants through Silent Spring's Digital Exposure Report-Back Interface, or DERBI (view a sample report).
Not only did the study advance science on women's occupational exposures, it also demonstrated the power of CBPR to reduce harmful exposures, change behaviors and practices, and create larger systemic change. Key to the study's success was the creation of a diverse coalition of impacted community leaders, labor unions, scientists, and advocacy organizations. Women firefighters also played a lead role in formulating the research questions and study design, collecting and analyzing data, co-authoring peer-reviewed articles, communicating findings to their peers, and translating results into community and policy-level actions.
Study impacts and outcomes included:
Increased knowledge on how to reduce personal exposures to household chemicals through personal report-back and community outreach

Increased knowledge on how to reduce workplace exposures through a worker training program

Upgraded fire station decontamination protocols

Lent evidence to support firefighter claims that a cancer was occupationally related under cancer presumptive laws

Supported adoption of California policy to restrict use of PFAS-containing firefighting foams

Shifted cultural attitudes about the importance of addressing women's health in firefighting

Identified elevated exposures of firefighters to chemicals such as PFAS and flame retardants

Advanced non-targeted biomonitoring methods

Created a biospecimen archive of women workers

Supported approval of global ban on some PFAS through Stockholm Convention
The study was a collaboration between Silent Spring Institute, University of California, Berkeley, Berkeley School of Public Health, United Fire Service Women, San Francisco Firefighters Cancer Prevention Foundation, Breast Cancer Prevention Partners, and Commonweal. Funding for this project was provided by the California Breast Cancer Research Program.
Read more about our research on women workers. 
Resources or References
Ohayon, J.L., S. Rasanayagam, R.A. Rudel, S. Patton, H. Buren, T. Stefani, J. Trowbridge, C. Clarity, J.G. Brody, R. Morello-Frosch. 2023. Translating community-based participatory research into broadscale sociopolitical change: insights from a coalition of women firefighters, scientists, and environmental health advocates. Environmental Health. DOI: 10.1186/s12940-023-01005-7