Women's Exposures at Work
Because most occupational studies have been done in men, much less is known about female workers. To fill that gap, we are partnering with communities and advocates to learn about women's exposures at work to chemicals that increase breast cancer risk.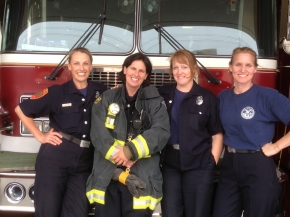 In 2012, the San Francisco Firefighters Cancer Prevention Foundation approached the United Fire Service Women and environmental health advocates with concerns about multiple cases of premenopausal breast cancer among their ranks.
Together, these groups discussed the need to understand breast cancer risk factors among women firefighters, particularly with regard to chemical exposures on the job. This evolved into a study, led by researchers at Silent Spring Institute and University of California, Berkeley to test the blood and urine of firefighters for exposures to chemicals linked to breast cancer, including carcinogens and chemicals that disrupt the body's normal hormone function.
The Women Firefighters Biomonitoring Collaborative Study later expanded to include other types of jobs including office workers, nurses, and immigrant healthcare workers. The aim to is increase knowledge about women's occupational exposures in general, an area that has been dramatically understudied, in order to create safer working environments for all.
Additional information:
News & Updates
A new analysis describes how community-based participatory research (CBPR) can be an effective tool for protecting women workers from hazardous chemical exposures on the job and creating healthier work environments.
One of the first studies from the Women Firefighters Biomonitoring Collaborative, a long-term investigation of chemical exposures among women firefighters and breast cancer risk.
Innovative study is at the forefront of environmental health research, with scientists using cutting-edge tools to sift through vast amounts of exposure data and hone in on the real chemical culprits.
Publications and Presentations