Informing chemical safety policies
At Silent Spring, we provide decision-makers and partner organizations with independent scientific expertise to help inform chemical policies and regulations that better protect public health.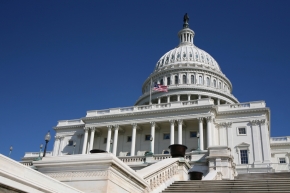 The U.S. has a history of stumbling from one tragic chemical mistake to the next. Examples include the widespread use of lead, asbestos, PCBs, flame retardants, and PFAS, which have resulted in large, costly, and prolonged public health crises. At Silent Spring, we are working to change that trajectory. To achieve that, legislators and other decision-makers need access to independent science. Most science in the environmental health arena is produced by industry; Silent Spring is one of the few environmental public health groups that is building a strong scientific case for making chemical regulations more health protective.
Examples of our work:
We co-hosted a workshop with Breast Cancer Action that brought together more than 65 scientists, advocates, and policy experts to share the latest science linking toxic chemicals with harmful effects on the breast, discuss how federal agencies can improve chemical safety testing, and collaborate on strategies to catalyze change.

We submitted more than a dozen expert scientific comments to the U.S. Environmental Protection Agency on its implementation of the Toxic Substances Control (TSCA) to help counter the chemical industry's influence on EPA's process to regulate chemicals.

Our in-person scientific testimony contributed to the decision by the U.S. Consumer Product Safety Commission (CPSC) to grant a petition to ban organohalogen flame retardants from upholstered furniture, mattresses, children's products, and electronic casings sold in the U.S.

We provided scientific expertise to the scientific advisory board of the Toxics Use Reduction Institute (TURI) as it considered listing PFAS as a class under the Toxics Use Reduction Act (TURA)—a Massachusetts state program that has successfully helped businesses reduce the use of toxic chemicals in a wide array of industrial processes.
Not only are we working to put scientific evidence about chemicals and health on the record and ensure industry claims about chemical safety do not go unanswered, we are also working with other scientists, non-profit organizations, breast cancer activists, to ensure they have access to critical scientific knowledge as they push for stronger science-based protections for public health.
Funded by