Massachusetts bans flame retardants in consumer products
January 2, 2021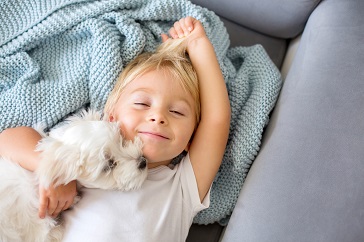 On January 1, 2021, the governor of Massachusetts signed the Children and Firefighters Protection Act into law, representing a major victory for public health. The law bans 11 toxic flame retardants in children's products, mattresses, household furniture, carpeting, and window coverings sold in the state.
The legislation was eight years in the making, with strong support from firefighters and advocacy groups. Silent Spring scientists provided the scientific foundation for the bill, testifying at multiple hearings and meetings with committee chairs over the years. 
Scientists have long been concerned about flame retardants because they migrate out of products into the air and dust, and ultimately into people's bodies. Exposure to the chemicals has been linked with a host of health problems including cancer, thyroid disease, decreased fertility, and lower IQ. What's more, adding flame retardants to furniture does not protect consumers from the most deadly types of fires, according to a recent analysis by Silent Spring. 
Under the new law, the Massachusetts Department of Environmental Protection will also be directed to recommend every few years additional flame retardants, deemed hazardous to human health and the environment, for inclusion in the list of prohibited chemicals.
The effort was made possible thanks to the leadership of Senator Cynthia Stone Creem, Representative Marjorie Decker, as well as the Professional Fire Fighters of Massachusetts (PFFM), Clean Water Action Massachusetts, Massachusetts Breast Cancer Coalition, Massachusetts Public Interest Research Group (MASSPIRG), and many other groups who voiced their support for the legislation to protect public health. 
Learn more about Silent Spring's research and policy engagement on flame retardants:
Resources or References