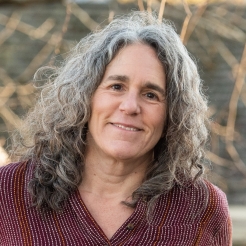 Director of Research
Ruthann Rudel leads Silent Spring Institute's exposure and toxicology research programs focusing on endocrine active chemicals and on the mechanisms by which chemicals may influence breast cancer risk. She also directs Silent Spring's Safer Chemicals Program, which is developing new cost-effective ways of screening chemicals for their effects on the breast.
Her recent study—recognized by the National Institute of Environmental Health Sciences (NIEHS) as one of the most influential papers of 2021—identified 296 potential breast carcinogens based on their ability to increase estradiol and progesterone synthesis in the H295R in vitro steroidogenesis assay. Her work in toxicology includes reviews of early life exposure to chemicals that alter mammary gland development and implications for testing protocols and risk assessment. Her 2014 review in Environmental Health Perspectives identified methods for detecting metabolites of 100 prevalent mammary carcinogens for use in biomonitoring and in breast cancer cohort studies. She has published on toxicology and risk assessment for metals, indoor air pollutants, and endocrine disruptors.
Rudel has made major contributions to understanding personal exposures to endocrine disruptors and breast carcinogens, including using biomonitoring, metabolomics, and environmental monitoring approaches. She is leading biomonitoring efforts in studies funded by NIEHS and the California Breast Cancer Research Program (CBCRP). In the Women Workers Biomonitoring Collaborative, she is creating a biospecimen archive for women in various occupations (firefighting, nursing, office work) and using non-targeted approaches to identify novel exposures, and metabolomics to identify early effect markers. Her projects seek to identify biological and environmental measures of chemical exposure suitable for integration into existing breast cancer cohort studies, with target chemicals selected based on cancer bioassays and other experimental data.
She directed Silent Spring's widely-cited Household Exposure Study, which was described by Environmental Science & Technology as the "most comprehensive analysis to date" of exposures in homes. Rudel expanded the initial study to include indoor and outdoor air, house dust, urine, blood, and self-reported exposure data from 250 participants in California, Massachusetts, Ohio, and Louisiana, leading to at least 20 peer-reviewed, exposure-related papers. Major contributions include the identification of previously unrecognized sources of ongoing PCB exposures in homes and the discovery that PBDE exposures are higher in California due to the state's unique furniture flammability standards. The U.S. Environmental Protection Agency (EPA) is now using these data to validate high-throughput exposure models for consumer product chemicals.
Rudel's research has been conducted in collaboration with co-investigators at Harvard University, Brown University, Tufts University, University of California, Berkeley, University of Florida, the U.S. Geological Survey, and the U.S. Centers for Disease Control and Prevention. She is an adjunct Research Associate in the Brown University Department of Epidemiology. She served on EPA's Scientific Advisory Committee on Chemicals for the Toxic Substances Control Act (TSCA), the National Academy of Sciences panel Unraveling Low Dose Toxicity: Case Studies of Systematic Review of Evidence, the U.S. National Toxicology Program Board of Scientific Counselors, as well as the TSCA and Regulatory Affairs and Legislative Assistance Committees of the Society of Toxicology. She has participated in environmental regulatory reviews for EPA, Health Canada, Toxicology Excellence for Risk Assessment, and others, and serves as an ad hoc manuscript reviewer for such journals as Environmental Science & Technology and Environmental Health Perspectives.
Rudel earned her B.A. in chemistry and neuroscience from Oberlin College, and an M.S. in environmental management and policy from Tufts. Rudel has been co-leading Silent Spring's research program, in collaboration with the Institute's executive director Dr. Brody, for the past 27 years. Before joining Silent Spring, she worked as a consultant at Gradient Corporation.
Projects
Publications & Presentations
Borrel, A., Rudel, R. 2022. Cheminformatics analysis of chemicals that increase estrogen and progesterone synthesis for a breast cancer hazard assessment. Scientific Reports. https://doi.org/10.1038/s41598-022-24889-w

Kay J.E., B. Cardona, R.A. Rudel, L.N. Vandenberg, A.M. Soto, S. Christiansen, L.S. Birnbaum, S.E. Fenton. 2022. Chemical Effects on Breast Development, Function, and Cancer Risk: Existing Knowledge and New Opportunities. Current Environmental Health Reports.  doi.org/10.1007/s40572-022-00376-2.

Rudel, R.A., B. Cardona, A. Borrel, J.E. Kay. 2022. Response to "Comment on 'Application of an in Vitro Assay to Identify Chemicals That Increase Estradiol and Progesterone Synthesis and Are Potential Breast Cancer Risk Factors'". Environmental Health Perspectives. https://doi.org/10.1289/EHP11400

Cardona, B. and R.A. Rudel. 2021. Application of an in vitro assay to identify chemicals that increase estradiol and progesterone synthesis and are potential breast cancer risk factors. Environmental Health Perspectives. doi.org/10.1289/EHP8608

Kripke M., J.G. Brody, E. Hawk, A.B. Hernandez, P.J. Hoppin, M.M. Jacobs, R.A. Rudel, T.R. Rebbeck. 2020. Rethinking Environmental Carcinogenesis. Cancer Epidemiology, Biomarkers & Prevention. 29(10): 1870-1875. doi.org/10.1158/1055-9965.EPI-20-0541

Cardona, B. and R.A. Rudel. 2020. US EPA's regulatory pesticide evaluations need clearer guidelines for considering mammary gland tumors and other mammary gland effects. Molecular and Cellular Endocrinology.  doi.org/10.1016/j.mce.2020.110927