Food packaging is designed to contain and protect food from spoiling. But these same materials meant to keep our food safe, can also be a source of harmful chemicals, raising concerns about potential health impacts.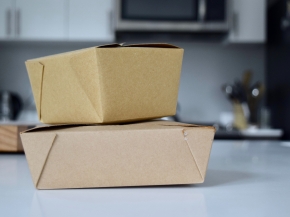 Innovations in over the last several decades have made it easier for consumers to eat on the go. Today, thousands of chemicals have been approved for use in food contact materials in the United States. These are chemicals that are allowed in packaging, containers, utensils, and food processing equipment. Many of these chemicals are hormone disruptors—such as BPA, which is found in the lining of cans, phthalates in plastic food wrap, and PFASs used in greaseproof wrappers—that can leach into food and enter people's bodies. Not only do chemicals in food packaging raise health concerns, when disposed of in landfills, they can enter the soil and groundwater, potentially contaminating drinking water supplies. Manufacturers are not required to disclose the chemicals they use and regulatory oversight is slow and inadequate.
To address these issues and more, Silent Spring scientists have been investigating chemicals in food packaging materials—what types of chemicals people are commonly exposed to and the predominant sources of exposure. Our findings will ultimately help consumers avoid potentially harmful exposures, while strengthening regulations and spurring manufacturers to invest in the development of safer materials.
Publications and Presentations