Detox Me Action Kit is a crowdsourced biomonitoring study on people's exposure to common household and environmental toxics.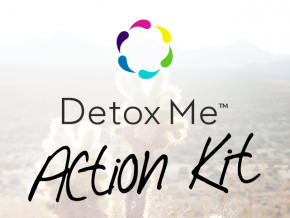 Launched by Silent Spring Institute, the effort is part of a national study to assess the U.S. population's exposure to potentially harmful chemicals found in everyday consumer items, such as personal care products, food packaging, and household cleaners. Participating in the study will not only empower individuals to lead a healthier life by reducing their own exposure to toxics, it will also advance science toward a less toxic future for everyone. Silent Spring is offering a unique opportunity to the public—one with significant potential impacts on human health.
People who sign up to participate receive a Detox Me™ Action Kit—an easy and non-invasive urine test that detects the presence of 10 common chemicals in the body, including BPA, parabens, and triclosan. All 10 compounds are endocrine disruptors, meaning they can interfere with the body's natural system of hormones and therefore raise concerns about reproductive problems, thyroid disorders, asthma, cancer, and other health effects.
Currently, the only national biomonitoring program for these chemicals is conducted by the Centers for Disease Control (CDC) using surveillance data from the National Health and Nutrition Examination Survey (NHANES). However, the program operates in a limited number of locations and on a limited scale, and therefore is not open to everyone. Also, participants in NHANES do not receive their results and the CDC does not collect data on the different products they use.
Our biomonitoring project builds on more than 20 years of research by Silent Spring Institute, with support from the National Institutes of Health (NIH), on everyday exposures to environmental and household chemicals. The organization's research was the first to show that consumer products are a major source of exposure to endocrine disruptors.
To learn more, visit the Detox Me Action Kit website.
Important Update!
Thank you to the 800-plus participants who signed up for our biomonitoring study! We are thrilled to have so many people interested in participating. At this moment, we are not taking any more sign-ups. We expect to re-open the study again soon. If you would like to be notified when we begin enrollment, please send us your email address by filling out this form.

Questions? Contact our research team at detoxmeactionkit@silentspring.org.