With an eye on prevention, we developed Detox Me, a free mobile app to help consumers reduce their exposures to toxic chemicals in their everyday environment.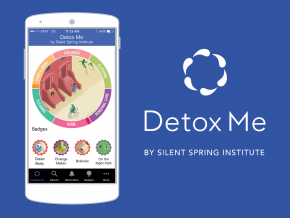 The app is based on more than 20 years of research by Silent Spring. Through our  Household Exposure Studies and other projects, we showed that people's homes can be a significant source of harmful pollutants, including endocrine disrupting compounds (EDCs). By analyzing chemicals in dust, air, and products, we found consumer products, furnishings, and building materials are important sources of these pollutants.
To put this vital knowledge to use, we created a set of easy-to-follow recommendations to help people avoid toxic chemicals and lead a healthier life. We organized more than 270 tips into a helpful guide, enabling us to share these tips with consumers anytime, on demand. With Detox Me, users can track their progress, scan barcodes on products to find relevant tips, and share action-oriented tips with friends and family. In contrast with other apps that advise consumers on what to buy based on product ratings, Detox Me guides people to make simple changes in their daily behaviors. What's more, because Detox Me focuses on actions rather than products and brands, users from a range of backgrounds can use the app to make small changes that lead to healthier living.
The app is also an integral part of our research projects, in which study participants use the app to reduce their exposures and track their progress. Projects that have incorporated the app include:
Detox Me is available in English and in Spanish. For more information and to download the app, see our "Tips for Healthier Living."
For additional resources on reducing your exposure to toxic chemicals, check out our tip sheets.
News & Updates
Silent Spring Institute launches its new mobile app Detox Me, a personalized guide that helps consumers lead a healthier life by reducing their exposure to toxic chemicals.
Publications and Presentations